In-person worship continues Sundays at 9:30am.
We welcome all to join us safely, facial coverings are required. COVID protocol will be updated on July 1st.
Please enter the church through the side door and check in with our ushers.
New Opportunity to worship on the 4th Sunday of the month: Outdoor Worship service at 8am
Spoken service will be held on the Fulton Ave lawn, bring your own chair. Masks will not be required if socially distanced.
Holy Communion will be distributed for those wishing to receive.
Virtual Worship Service at St. Paul's
Announcements at 9:25 am and Service at 9:30 am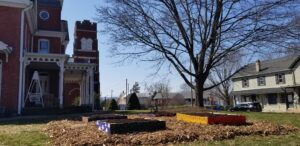 Virtual faith formation discussion series Gathered at the Table is taking a summer break.
We'll be back throughout the summer with pop-ups, so please submit any topics you'd like to discuss.
And returning in the fall with more ELCA Social Statements.
All previously recorded services are available on our Facebook page & YouTube channel!