In person worship service has resumed.
Please adhere to all safety guidelines, such as face coverings, distancing and frequent hand cleaning.
Enter the worship space through the side door and check in with our ushers.
Livestreaming of the service will continue on Facebook if you wish to join worship virtually.
Current Events
Updated 1/19/2020
Virtual Worship Service at St. Paul's
Announcements at 9:25 am and Service at 9:30 am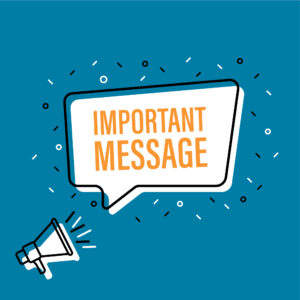 In preparation for our Annual Meeting on Jan 31, 2021, St. Paul's Council would like to invite you to participate in an
informal Town Hall Meeting on Sunday, January 24, 2021 at 10:30am.
There are 4 main topics of discussion:
**2021 Proposed Budget
**Organ replacement
**New Logo/Sign
**Safety Upgrades
The 24
th
will be an opportunity to discuss and ask questions regarding these topics. There will
NOT
be voting. The voting will only occur during the Annual meeting on the 31
st
. This will be a hybrid style meeting with an option to be in person in the sanctuary or join with a video option using the Zoom link in this Wednesday's weekly email. If anyone has questions about joining the virtual part of the meeting, please reach out to the office and you will be called and assisted.
The Annual Congregational Meeting is scheduled for Sunday, January 31st immediately following the service.
Please plan an attending in person or virtually through Zoom to be a part of the decisions being made here at St. Paul's.
More meeting details will follow in weekly emails.
Are you experie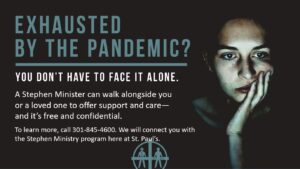 ncing pandemic fatigue?
A feeling of being mentally and emotionally exhausted by everything that's going on right now?
We're all facing different kinds of life challenges during this time—
isolation and loneliness; a
nxiety over health; g
rief; j
uggling work, childcare, and schooling responsibilities; f
inancial strain or job loss; u
ncertainty about the future; t
he list goes on.
It's no wonder we might be hit by pandemic fatigue.
But you don't have to go through it alone. If you or someone you care about is experiencing difficulties like these, our Stephen Ministers are ready to listen, care, encourage, and be there to offer support. A Stephen Minister will meet with you privately—by phone, by video chat, or possibly in person when it's safe to do so—to focus on you and your needs. It's free and completely confidential, and it offers real care, comfort, and hope. You can find out more by calling 301-845-4600 and we will connect you with the Stephen Ministry program here at St. Paul's.
Virtual faith formation discussion series Gathered at the Table- join us Thursdays at Noon on Facebook LIVE.
We're back to discuss "The Church in Society: A Lutheran Perspective."
Check out the resource page for links to the document
All previously recorded services are available on our Facebook page & YouTube channel!