Worship Service: Sundays at 9:30am
Worship services are held in person in the sanctuary, please check in with an usher as you arrive.
St. Paul's is encouraging masks for worship and meetings.
St. Paul's continues to offer alternative ways to worship with virtual service.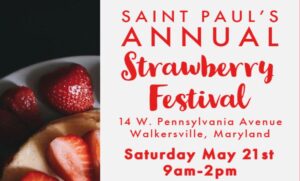 Can't wait to see everyone Saturday, May 21st at
St. Paul's Annual Strawberry Festival!
don't forget to follow us on
Facebook
to stay up to date!
Something New!
Starting June 5th all ministry group meetings will be the first Sunday of every month immediately after service. This is an opportunity for everyone to join a group and help with the work of the church. The meetings will only be an hour so come and join us.
The online faith formation series, Gathered at the Table has wrapped up a third season. Thank you for your continued support of this new ministry! We will return this fall with discussions Thursdays livestreaming on Facebook.
St. Paul's is blessed through your contributions to support community ministries and organizations which continue to provide care and share the love of God with others. The Generosity Speaks series shines a light on how St. Paul's faithfully ministers in the community by the sharing of our monies, gifts, and talents which have been entrusted to us through the generosity of our members. We often are not aware of how our gifts are used and the extent of our outreach in the community, so these videos and personal testimonies are meant to highlight our stewardship in the hope of inviting continuing and growing generosity. See the full series on our YouTube channel
Thank you to Mitzi and Mel and all the volunteers at the GVCS Thrift Shop!