Worship Service: Sundays at 9:30am
Worship services are held in person in the sanctuary, please check in with an usher as you arrive.
St. Paul's is currently requiring masks for worship and meetings. (protocol updated 1/12/22)
Thank you for your understanding and grace and we hope to see you on Sunday!
St. Paul's continues to offer alternative ways to worship with virtual service.
Livestream Service via Facebook begins at 9:25am
Annual Congregational Meeting will be held in person and via zoom after church on Sunday, January 30th.
Please refer to your weekly email to get Zoom details as well as all the documents for the meeting.
Wellness Outreach Weekend Feb 4th- Feb 6th at St. Paul's:
Red Cross Blood Drive Feb 4th from 10am to 4pm at the Parish Hall (19 W. Penn. Ave.)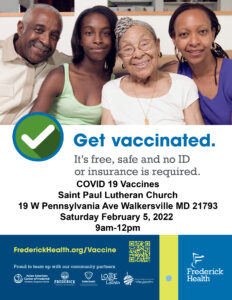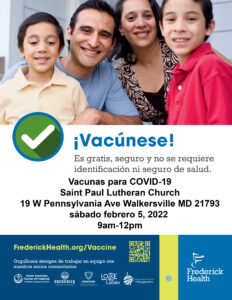 Walk-in vaccine clinic in the Parish Hall
19 W Pennsylvania Ave, Walkersville
Paul's is partnering with Lutheran Social Services of Maryland to host certified dementia instructors from Carroll Lutheran Village to present a 90 minute informational seminar on:
in the Nave at 14 West Pennsylvania Ave., Walkersville.
Inviting seniors, children of seniors, caregivers and friends to this free informative afternoon.
Please RSVP here or to the office at 301-845-4600 or email info@saintpaulslutheranchurch.org by January 30th.
And find a more detailed presentation description on the flyer below.
Understanding Dementia Flyer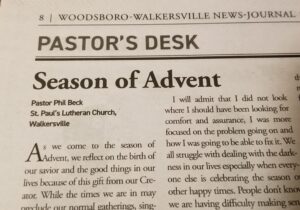 Pastor Phil wrote the Pastor's Desk piece in the
December issue of the Woodsboro-Walkersville News-Journal.
Having a difficult time this holiday season, the article offers peace, comfort and hope.
"He overcomes the darkness in our lives. In those times when we are struggling,
we can embrace the goodness of Jesus and do not have to be alone."
The online faith formation series, Gathered at the Table will return in the new year and continue the discussion on the ELCA's social statements. We will be continuing discussions on the Criminal Justice statement on January 27th at Noon, livestreaming on Facebook. Find the full statement and ELCA resources here.
St. Paul's is blessed through your contributions to support community ministries and organizations which continue to provide care and share the love of God with others. The Generosity Speaks series shines a light on how St. Paul's faithfully ministers in the community by the sharing of our monies, gifts, and talents which have been entrusted to us through the generosity of our members. We often are not aware of how our gifts are used and the extent of our outreach in the community, so these videos and personal testimonies are meant to highlight our stewardship in the hope of inviting continuing and growing generosity.
Thank you to Sarah Lefler from Mar-Lu-Ridge for sharing!