We welcome you to worship with us!
Sunday Mornings –
Children's Ministry Program –
4th Sunday of Every Month
Please visit the Calendar for more events!
Parish Office Hours – Monday to Friday 9am – 1pm
May God richly bless you!
May the Lord bless you and keep you!
Connect with us on Facebook!
Join Us for Holy Week
Wednesday, April 17th
Soup & Sandwich 6:30pm Worship 7:30pm Thursday, April 18th Dinner Church for Maundy Thursday 6pm Friday, April 19th Good Friday Worship 7:30pm Saturday, April 20th Easter Egg Hunt 3pm Sunday, April 21st Easter Worship 8:30am Easter Breakfast 9:30am Easter Worship 11am
Welcome to St. Paul's
St. Paul's has been a part of the Walkersville community since 1891. We are located in the heart of historical downtown Walkersville on the corner of Fulton and Pennsylvania Ave.
We've been known as the "Strawberry church" for our famous Strawberry Festival held in the spring. We celebrate our German heritage in the fall with our German Dinner. But that's just a small part of who we are at St. Paul's. Throughout the rest of the year you will find a vibrant congregation of believers worshiping on Sunday mornings. You will find us supporting Glade Valley Community Services (GVCS,) as we host the GVCS Thrift Shop (Clothes Closet) or volunteer at the GVCS Food Bank. Together we celebrate life's victories and comfort each other through life's challenges. We are a community in Christ who would love to meet you. Join us for worship Sunday mornings at 9:30 am or at any of our upcoming events, check out the "What's Happening" tab under Ministries.
Our Leaders:
St. Paul's is in transition! Pastor Schlak joined St. Paul's in January as our Interim Minister. We are growing with his leadership and guidance. We continue to pray for God's guidance and presence as we go through the process of selecting a permanent Minister. Victoria Rowe is currently acting as the Office Administrator as we update our technology and database and Belinda Burriss is the Youth and Children's Ministry Coordinator. An elected council of twelve members of the congregation help guide and direct St. Paul's.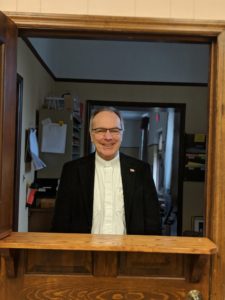 Where Can I Serve?
Jesus told us, his disciples, to make disciples of all nations. One of the most important values of this church is our mission to the world. It begins in our own community, and spreads overseas to every nation. Church members are involved in a variety of ministries from things as simple as folding bulletins to chaperoning youth mission trips.
Mission Outreach
The members of St. Paul's are pleased to part of the Evangelical Lutheran Church in America. We are part of the Delaware-Maryland Synod. We support the mission and vision of these parent organizations.
Events
St. Paul's Children's Easter Egg Hunt
Saturday, April 20th
starting at 3pm
14 West Pennsylvania Ave. Walkersville
Rain or Shine
All children in 5th grade & younger are welcome to bring their baskets & hunt for eggs. Refreshments and activities round out an afternoon of fun!
BRING A FRIEND!
Parents are always welcome. Older youth are invited to come help out.
The Strawberry Festival is an outdoor fun-filled event for the community to enjoy food, listening to bluegrass music and children activities. Net proceeds from this event are used to further support St. Paul's Outreach Ministries and other programs. It's our opportunity to SHINE in our community.
Please consider coming to the planning meetings to learn about the strawberry festival and how YOU can volunteer your time/talents behind the scenes and/or on the day of the event. Bring your ideas!
Areas to serve/volunteer:
* Advertising/Marketing (create flyers around town, etc.)
* Welcome Tent (share info about St. Paul's to the community)
* Popcorn Machine (make and serve popcorn)
* Bake Table (volunteers to bake items; staff table on event day)
* Drink Tent (lemonade, water and sodas)
* Strawberry Shortcake Tent (servers/bakers of shortcakes)
* Food Tent (servers) (serve food)
* Grilling Team (grill meats)
* Children Activities and Face Painting * Runners (to get crockpots and food items from refrig/freezer to tents)
* Kitchen Help – 2 PM to ? – (wash and put away items used during the event)
* Set-Up/Take Down (tents, tables and chairs)
Weather permitting, we plan on setting up tents/tables/chairs on Friday night, May 17th.
If you are interested and not able to attend a planning meeting, please let me know. We would love to hear from you!
Sheila Kahler – 301-845-2820 (leave message) shekay921@aol.com
Church Calendar
Keep up-to-date with the latest events and activities.
Check out our monthly newsletter- Epistle or check out the photo gallery to see what's been happening at St Paul's.
Stop by our
Facebook page
for the most up to date information about events.
How to Contact Us
Office Hours: Monday-Friday from 9am until 1pm
Telephone: (301) 845-4600
Copyright ©2016 St. Paul's Lutheran Church. All rights Reserved.